The Thai-Chinese International School Performing Arts / Music Program
TCIS offers various and interesting Music Programs that cater to the individuality of every student. Our goal is to give a worthwhile and enjoyable music experience from Kindergarten to High School. The program is mainly focused in three distinct directions: General Music Program for Primary School, Vocal and Instrumental Music Program for Middle School, and Advanced Music Program for High School. TCIS organizes several music concerts throughout the year and all music classes perform in two music concerts annually. For students with special needs and who may require extra guidance in music, an extensive after-school private music lesson program is made available.
General Music Program for Primary School,
For younger students in the Primary Level, teachers introduce simple music concepts through movement singing, dancing and playing basic percussion instruments. The aim is to stimulate students' interest by having fun in music. The students in LowerSchoolstart progressively to approach music language. Examples of this are music reading, basic music theory and history, music terminology, and other conceptual topics. Each student in the elementary grade levels learns specific instruments such as recorder, melodeon, ocarina and Orff instruments. The program allows all students to gain different aspects of knowledge in music, to stimulate their curiosity and to get pleasure in playing music together.
Vocal and Instrumental Music Program
The Middle School students are oriented to develop their music reading skill and performing ability both in vocal and instrumental music. Grade 5 and Grade 6 students are introduced to the first polyphonic choral singing adopting and applying correct vocal techniques. Singing in the choir allows students to experience music in collaboration and to develop their aural sensibility. Grade 7 and Grade 8 students are challenged through instrumental art by learning to play an orchestral instrument. They are able to explore the physic function of musical instruments and develop patience and consistency in experiencing and learning an instrument. The instrumental study offers adequate preparation for students who are interested in joining advanced courses in High School. To ensure the quality of student learning during the instrumental study, a normal class is divided in two smaller sections: the strings section and the wind section.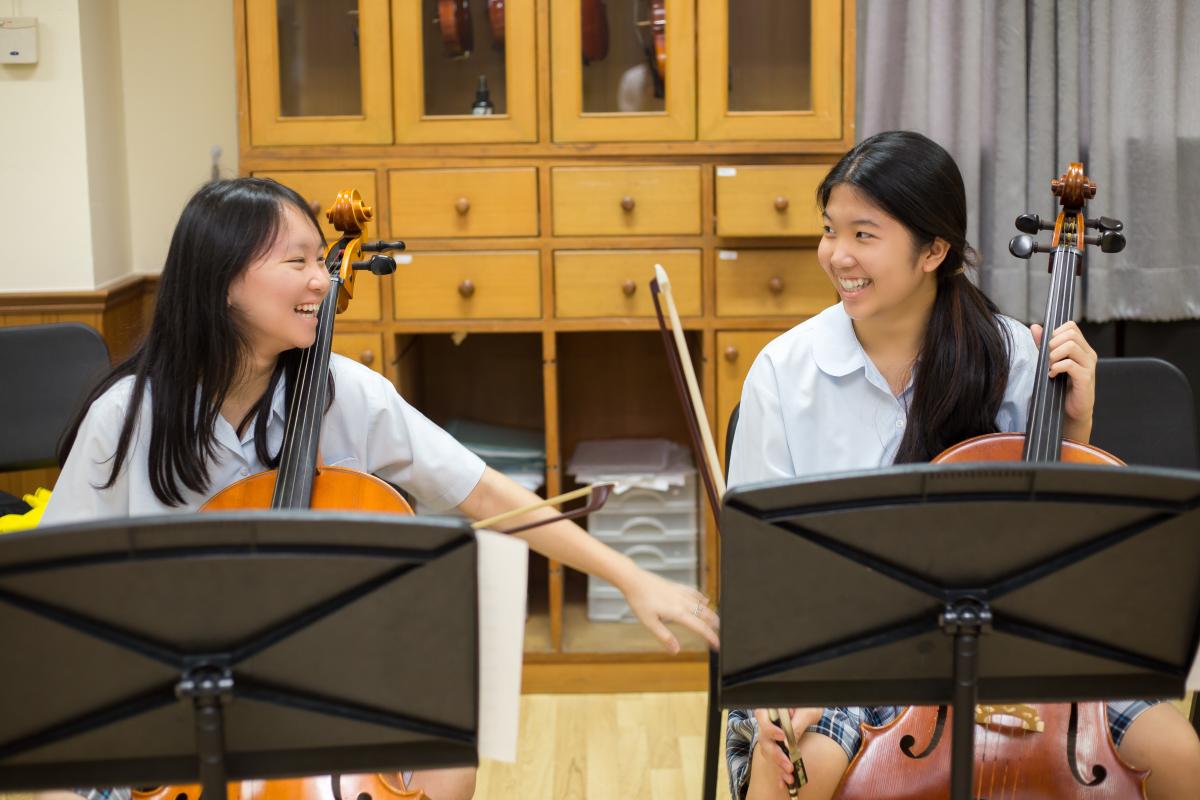 Advanced Music Program for High School
The Music Program in the High School includes both practical and theoretical aspects. Performance courses like Chorus, String Ensemble, Wind Ensemble, Symphonic Orchestra, Chamber Music, and Rock Band comprise one section of the program, while an AP Music Theory Course comprises the other. The components of AP Music Theory Course include theory and history of music, musical literacy, and music analysis. This is offered to students with a strong background and interest in music. This class prepares students for the AP Music Theory Exam, which includes listening, sight-singing, dictation, music analysis and harmonization components.
Drama & Theatre introduces the students to drama and theatre as a means of artistic communication. Through theoretical studies and performance, it will enhance and develop students' self-confidence and self-expression.
Students will be able to:
Develop their understanding of the different forms of theatre arts.
Study the different principles of theatre arts such as children's theatre, creative drama, and the history and philosophy of drama education.
Develop as confident actors, responsible critics, and experienced drama and theatre personnel.
Aspire towards career goals in theatre and the allied professions.